Moya Quinlan was always a reluctant feminist. But if quietly slipping into a man's world without anyone batting an eyelid was an early form of feminism, then she was a world leader.
Read more
In 1980, when the legal profession around the world was still predominantly the preserve of white males from a certain educational background, Ireland produced the first female president of its Law Society in Quinlan.
Not a country that was known at the time for its progressiveness – we were still 10 years away from our first woman president of Ireland and have not had a female taoiseach to this day – the achievement was so outside the expected norm that it would be another 21 years before the solicitors' profession elected another woman to the role.
Quinlan, who died aged 98, was quite simply decades ahead of her time. Always was and the years never caught up. Her father Joseph H Dixon was a solicitor with his own practice and Moya caught the legal bug early.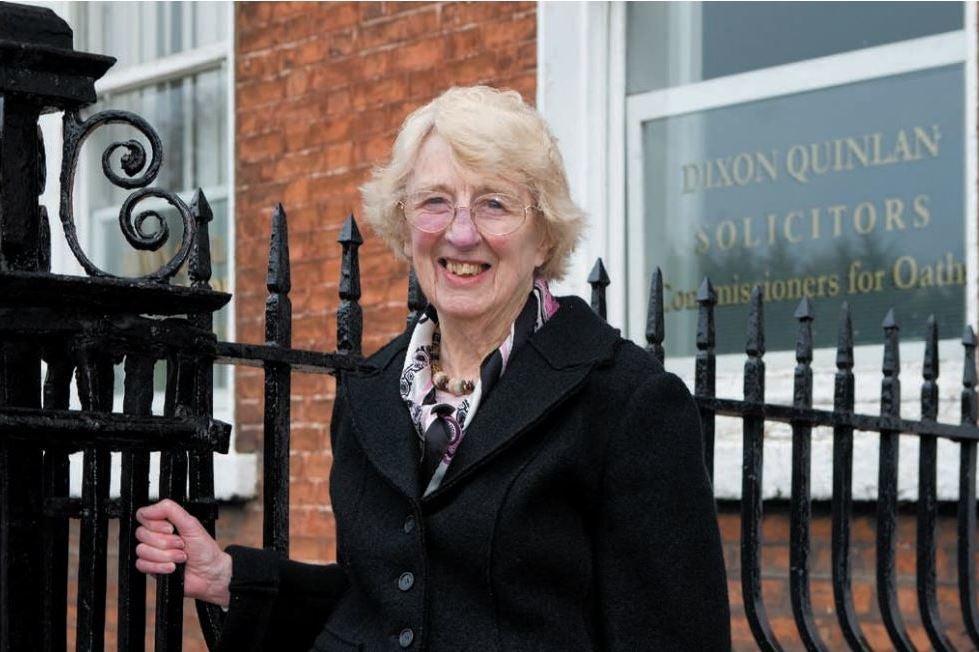 When she left school in 1936, she did what many women did at that time and took on a typing course which was the first and last stereotypical act of her long life.
It didn't take long to realise that she was cut out for more than that and in 1942, when the world was at war, Moya Quinlan was busy burying stereotypes. Four years later, she qualified as a solicitor as one of four women in her year and joined her father in practice. At that time, there were no more than 10 women practising as solicitors in the country.
She married Michael Quinlan, an accountant, in 1952. Their two sons, Michael Jnr and Brendan, arrived in 1954 and 1955 but the traditional mother in the home role favoured by the huge majority of Irish women at the time was anathema to her. If she had been a civil servant, statute would have barred her from working outside the home between 1958 and 1973. Instead, her practice flourished but that was never going to be enough on its own.
It was in her nature to give something back. The first of many precedents was set when she became the first lady council member of the Law Society in 1969. Moya's primary driving force was to create a base for the solicitors and their apprentices to gather and learn. Along with the late Peter Prentice, she oversaw the opening of the Law Society premises in Blackhall Place in 1978.
At the start of that decade, she had also joined the council of the country's largest Bar Association, the Dublin Solicitors Bar Association (DSBA).
In a quite remarkable two years between 1979 and 1981, she went on to carry out the presidential roles of both the DSBA and the Law Society successively. It is a feat unprecedented and one unlikely to be ever again contemplated, let alone achieved. Over this period she remained in practice as a solicitor, and while she remained a loving and doting mother to her two boys, she expanded this role to an entire profession.